"Big Bang" Percussion Concert
Saturday, April 1, 2017 - 7:30pm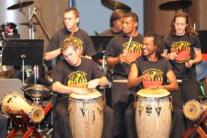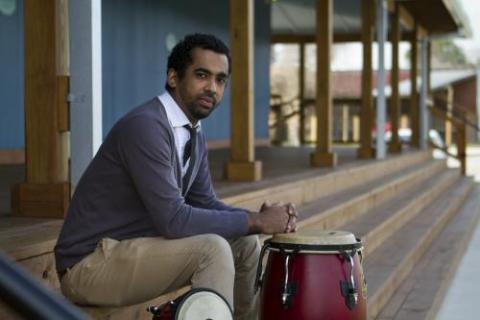 The University of Louisiana at Lafayette Percussion Ensemble will present the Big Bang 2017 on Saturday, April 1 at 7:30 PM in the Ducrest-Gilfry Auditorium in Angelle Hall.  This year's concert will feature Lafayette resident Cesar Bacaro, a Cuban born Latin percussionist hailing from the city of Santa Clara.
At a youthful age, Cesar began to feel a draw towards the music and culture he inherited from past generations. When he was 7 years old, he enrolled in The Vocational School of Art (EVA) Olga Alonso, in Santa Clara. The rest tells a story of Cesar's passion and dedication to music that will be sure to last a lifetime.
After studying music in primary school, Cesar was accepted into the Professional School of the Arts "Samuel Feijo", where he began an extensive study in music and art. At 18 years old, he moved to Havana, Cuba to begin playing professionally with many credible musicians such as Yulien Oviedo, Leoni Torres, and Trio Trovarroco. His credibility as a musician offered him the opportunity to move to Italy in 2008, where he lived for 7 years doing professional collaborations and performing with several groups throughout Europe.
In 2013, Cesar's musical senses drew him to yet another city that has become his newest expedition. He wanted to join his relocated family in Lafayette, LA, a city that thrives tremendously on culture and music. Being close to family was important, which has opened many new doors for Cesar. Today, Cesar Bacaro performs in TONOMONO, Rio Luminoso, Cafe' con Lucha, and Michel Joseph and is one of the top recording percussionists in the region.
Mr. Bacaro will be featured along with the UL Lafayette Percussion Ensemble and Steel Band on several "Latin" Jazz tunes by Andy Narrel, Dave Saumuels, The Caribbean Jazz Project, and the TropiJazz All-Stars.
The concert will also showcase the work of UL Lafayette percussion students on duets, trios, quartets, and large percussion ensemble selections.
Admission is $5 at the door or Free with UL student or faculty ID.
Primary sponsor:
School of Music & Performing Arts
Room name/number:
Ducrest-Gilfry Auditorium
Directions:
The School of Music is located at the southeast corner of the McKinley St. and E. St. Mary Blvd intersection. Parking for evening and weekend events is available in the lot on the northwest corner of this intersection. The entrance to the parking lot is on Girard Park Cir.
Event target audience:
Alumni
General public
Students
Visitors
Admission info:
Free to public
No ticket necessary