UL Symphony Annual Halloween Concert
Saturday, October 28, 2017 -

7:30pm

to

9:30pm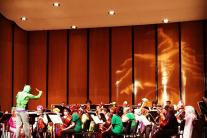 UL SYMPHONY ANNUAL HALLOWEEN CONCERT
Adults and little ones alike will get into the Halloween spirit when the UL Lafayette Symphony (Michael Blaney, conductor) presents its Annual Halloween Concert: Saturday, October 28, at 7:30 p.m. in Angelle Hall Auditorium.  Orchestra members will be wearing costumes and the audience is encouraged to show up in their favorite Halloween costumes.  Musical highlights of this year's concert include: Dukas-The Sorcerer's Apprentice, Strauss-The opening to Also Sprach Zarathustra (2001: A Space Odyssey), Stravinskly-The Firebird Suite, Schwartz- "Magic To Do" from the Musical Pippin, Humperdink-"The Evening Prayer" from the Opera Hansel & Gretel, and Spider Pig from the Simpsons Movie.  Guest appearances by the UL Choirs, UL Opera Theatre and UL Dance Department.  It's a great way to celebrate the holiday in a fun and entertaining way.
Primary sponsor:
School of Music & Performing Arts
Room name/number:
Ducrest-Gilfry Auditorium
Event target audience:
Alumni
Faculty
General public
Parents
Staff
Students
Visitors
Event open to:
Alumni
Faculty
First-year students
General public
Parents
Staff
Students
Visitors
Admission info:
Ticket required
University I.D. required
Ticket information:
Admission is $8 for adults, FREE for 17 and younger, FREE for all UL students, faculty, and staff with I.D.  All proceeds benefit the UL-Lafayette Orchestra Program.  For more information call the UL School of Music at (337) 482-6012.