The United States Navy Band Commodores
Monday, October 30, 2017 - 7:30pm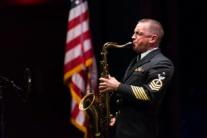 Jazz is America's music and the U.S. Navy Band Commodores, the Navy's premier jazz ensemble, have been performing the very best of big band jazz for the Navy and the nation for over 40 years. Formed in 1969, this 18-member group continues the jazz big band legacy with some of the finest musicians in the world. Led by Senior Chief Musician William C. Mulligan, the Commodores' mission includes public concerts, national concert tours, ceremonial support in honoring our veterans, jazz education classes and clinics, and protocol performances for high-level military and civilian government officials.
The Commodores are held in high regard nationwide by concert patrons and critics alike. The list of guest artists that have appeared with the Commodores reads like a who's who of jazz and popular music: Ray Charles, Branford Marsalis, Clark Terry, Grover Washington, Jr., Chris Potter, Jerry Bergonzi, Eddie Daniels, James Moody and many more. They have appeared on television shows, played nearly all major jazz festivals and toured across the United States and abroad. In conjunction with the Airmen of Note (Air Force) and the Army Blues (Army), the Commodores even host their own annual jazz festival, the Joint Service Jazz Festival in Washington, D.C.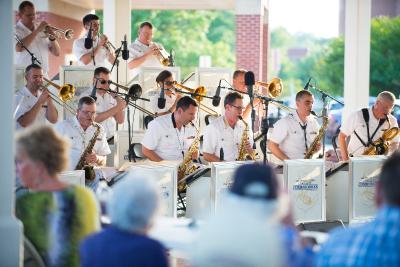 As a versatile and relevant musical organization in the 21st century, the Commodores write and arrange much of their vast library of music. Their concerts are an eclectic mix of traditional big band music, exciting jazz vocal arrangements as well as fresh new instrumental music written specifically for the Commodores of today. This vibrant, dynamic musical group is constantly striving for musical excellence and the pursuit of new and exciting ways to communicate with their audiences. Their most recent recordings, Directions (2009) and By Sea, By Air, By Land (2013), were both released to critical acclaim.
Primary sponsor:
School of Music & Performing Arts
Room name/number:
Ducrest-Gilfry Auditorium
Directions:
The School of Music is located at the southeast corner of the McKinley St. and E. St. Mary Blvd intersection. Parking for evening and weekend events is available in the lot on the northwest corner of this intersection. The entrance to the parking lot is on Girard Park Cir.
Event target audience:
Alumni
Faculty
General public
Staff
Students
Admission info:
Free to public
No ticket necessary