Vocalist Laurie Antonioli with Jazz Quartet
Saturday, January 19, 2019 -

7:30pm

to

9:00pm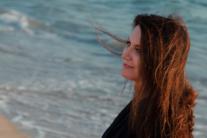 No American jazz singer has traversed a wider array of musical territory over the past five years than the San Francisco Bay Area's Laurie Antonioli. Exploring with her vaunted American Dreams Band, she organically transforms any song into a possibility-filled jazz vehicle, a journey that culminated most recently in 2014's critically hailed Songs of Shadow, Songs of Light (Origin), an album based on the extraordinary music of Joni Mitchell. Antonioli followed with Varuna (Origin), a duo project that reunites her with piano legend Richie Beirach on a collection of utterly reimagined standards, spontaneous inventions, and Beirach originals featuring Antonioli lyrics. "Laurie is the real deal," Beirach says. "She's got a rich, elegant, colorful alto voice, great intonation, and amazingly creative and spontaneous phrasing. But most of all, she possesses that unteachable, unexplainable element of humanity deep down in every note she sings."
After a formative period of jazz study and apprenticeship with singers Mark Murphy and Pony Poindexter, Antonioli broke onto the jazz scene with her 1985 album, Soul Eyes. Throughout the decade, she was one of the region's most visible singers, booked at leading venues and festivals with her own band, performing regularly with Bobby McFerrin, and sitting in with luminaries like Tete Montoliu, Jon Hendricks, and Cedar Walton at San Francisco's Keystone Korner. McFerrin: "Laurie is truly one of my favorite singers; she's full of wonderful ideas, has an instinctive musicality, a great sense of humor, and is an inspiring improviser and collaborator."
Ms. Antonioli is traveling from California with her regular collaborator on piano, Matt Clark. Clark and Antonioli will work with UL Lafayette students in master classes the day before the show. Some Louisiana-based friends—guitarist Brian Seeger, bassist Amina Scott, and drummer G. Maxwell Zemanovic—will join Antonioli and Clark to perform the concert.
Primary sponsor:
School of Music & Performing Arts
Directions:
Burke-Hawthorne Hall is located on campus at 231 Hebrard Blvd in Lafayette, near the intersection with St Mary Blvd. There is limited street parking nearby. Visitor parking is available in the Girard Park Circle Parking Garage.
Event target audience:
Alumni
Faculty
General public
Parents
Staff
Students
Visitors
Event open to:
Alumni
Faculty
First-year students
General public
Parents
Staff
Students
Visitors
Ticket information:
Free to UL Lafayette students, staff, and faculty with UL ID card, as well as anyone under 18. Tickets at the door are $15 for the general public and $10 for seniors (cash only, no advance sales).