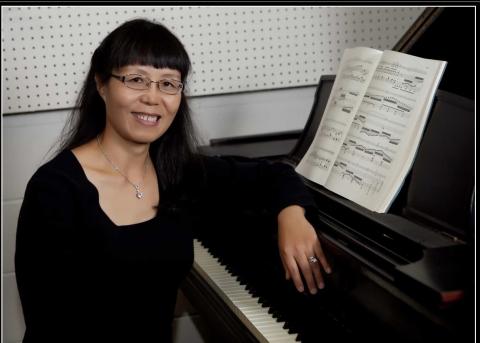 Coordinator of Collaborative Piano 
Music Coach of UL-Lafayette Opera Theater
Dr. Yuling Huang-Davie is an Assistant Professor who teaches the collaborative piano courses at the University of Louisiana at Lafayette. As coordinator of the collaborative piano program, she is responsible for evaluating and assigning graduate and undergraduate pianists to work with partners in vocal, instrumental studios, and stage productions for the School of Music and Performing Arts.
Dr. Huang-Davie holds a Bachelor of Music degree in Piano Performance from Xi'an Conservatory (China) and a Master of Music degree in Piano Performance from Shenandoah Conservatory (Winchester, VA). She earned her doctorate in Collaborative Piano from Florida State University, where she was an assistant music coach for the prestigious Florida State Opera.
Dr. Huang-Davie's performances and masterclass engagements have brought her to lecture and performance stages at the Arts Club of Washington D.C. and music programs at the University of West Virginia, University of Memphis, James Madison University, Shenandoah University, University of Florida, Tulane University, and Louisiana State University, among others.
She has collaborated with leading conductors Michel Singher, Mark Gibson, Steven Mosteller, and Douglas Fisher. Dr. Huang-Davie and Dr. Andrea Loewy represented Louisiana at Lafayette in multiple concert tours across China from 2007 to 2016. A recording of their piano and flute collaborations was released by Centaur Records on a CD titled "Apparitions and Whimsies" (CRC 2689). Her concert performances have aired on National Public Radio (NPR) stations in Florida and Louisiana.
Dr. Huang-Davie has to her credit awards from the Fulbright U.S Teaching Scholar program (Malaysia 2023–24), Outstanding Mentor Award (Graduate School, University of Louisiana at Lafayette), Distinguished Alumni Award for Outstanding Professional Achievement (Shenandoah Conservatory of S.U.). Award recipient by the Marion Park Lewis Foundation for the Arts (twice honored) and the Tallahassee Music Guild Scholarship.
Dr. Huang-Davie was awarded a sabbatical for the school year 2023–24 to fulfill her Fulbright assignment to the Institute of Music at UCSI University, Kuala Lumpur, Malaysia.
Email: yuling.huang-davie@louisiana.edu
Phone: 337-482-5207 (office)