The recommended Music Minor Curriculum requires a minimum of 18 credit hours in music, with 6 hours at the 300–400 level, according to the following guidelines: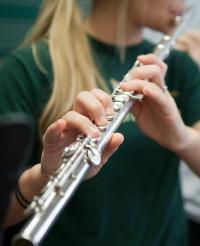 Music Theory/Aural Skills
6 credit hours
MUS 120: Music Theory I (3)
MUS 130: Music Theory II (3)
NB: All students planning to register for MUS 120: Music Theory I must take the Theory Diagnostic Exam prior to enrolling in Theory I.
Music History/Literature
Select one, 3 credit hours
MUS 370: Music History I (3)
MUS 470: Music History II (3)
MUS 450(G): Traditional Musics of North America (3)
Class Lessons/Individual Lessons
9 credit hours
MUS 321: Class Voice I (3)
MUS 322: Class Voice II (3)
MUS 323: Class Piano I (3)
MUS 324: Class Piano II (3)
MUS 325: Class Guitar I (3)
MUS 326: Class Guitar II (3)
MUS 327: Class Fiddle I (3)
MUS 328: Class Fiddle II (3)
MUS 329: Class Button Accordion I (3)
MUS 319: Class Songwriting I (3)
If a professor agrees to it, a student may audition for private lessons on an instrument (AMUS 115) and enroll in 9 credits.
OR
Any combination of class lessons and individual lessons that totals 9 credits.