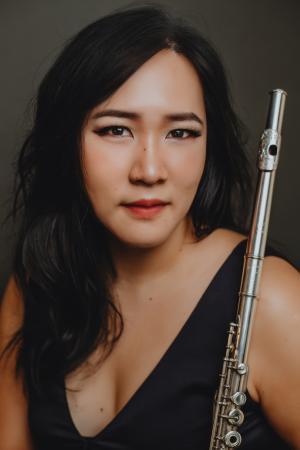 Taiwanese-American flutist Dr. Yuh-Jiun (Melody) Wan is an avid soloist, chamber musician, and educator. As a dedicated educator, Dr. Wan is the Visiting Assistant Professor of Flute at the University of Louisiana Lafayette.
As a soloist, Dr. Wan has won first place in the Taiwan Music Competition, the Louisiana Flute Society Competition, and the CSU Summer Arts Festival. She also received top prizes at the Long Beach Flute Competition and NOLA Chamber Festival. An avid chamber musician, Dr. Wan is the founder and flutist of the Vermillion Duet, a Louisiana/Texas-based clarinet and flute duo, which held the 2021 Digital Artist Residency with Chamber Music America.
Dr. Wan has performed at the Seattle Flute Society Festival, the San Diego Flute Guild Spring Festival, the Mid-Atlantic Flute Festival, the Texas Flute Society Flute Festival, the Louisiana Old State Capital, and the Casa de la Cultura Ecuatoriana Benjamín Carrión in Ecuador. She also performs with the Rapides Symphony Orchestra in Alexandria, LA. Dr. Wan has performed in concerts across Asia, North America, South America, and Europe.
Dr. Wan holds a Doctor of Musical Arts degree from Louisiana State University. She obtained the Performance Diploma, Diplôme Supérieur d'Enseignement de Flûte Traversière, from École Normale de Musique de Paris Alfred Cortot in France. She earned a Master of Music degree from the Bob Cole Conservatory at California State University, Long Beach, and a Bachelor of Music Degree from the University of California, Santa Barbara. Her primary instructors include Jill Felber, John Barcellona, Mihi Kim, and Katherine Kemler.