Lauren Faulk: Senior Flute Recital
Sunday, March 4, 2018 - 3:00pm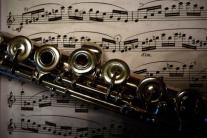 Primary sponsor:
School of Music & Performing Arts
Room name/number:
Ducrest-Gilfry Auditorium
Directions:
The School of Music is located at the southeast corner of the McKinley St. and E. St. Mary Blvd intersection. Parking for evening and weekend events is available in the lot on the northwest corner of this intersection. The entrance to the parking lot is on Girard Park Cir.
Event target audience:
Alumni
General public
Students
Visitors
Admission info:
Free to public
No ticket necessary