Professor Emeritus Susanna Garcia joined the faculty of the University of Louisiana School of Music in August 1990. She held the Louisiana Board of Regents/Ruth Stodghill Girard Endowed Professorship (2000-2021), and for many years, served as Coordinator of Keyboard Studies and as Scholarship Coordinator for the School of Music. During her 31-year tenure she taught applied piano, group piano, piano pedagogy, lectured in the Interdisciplinary Humanities program, and directed the Pedagogy Lab Program, an internship program for piano pedagogy students. She retired from the university on May 30, 2021.
A native of Corpus Christi, TX, she has performed both solo and chamber recitals throughout the United States, and in Canada, Europe, Mexico, the Caribbean, and Ghana, and has been featured on radio and television.
She performs regularly with pianist William Chapman Nyaho as the Nyaho/Garcia Piano Duo, specializing in both the standard repertoire and newly composed works for piano duo and duet. They released their first CD of Aaron Copland's two-piano works on Centaur Records (1998) to critical acclaim. Reviews called this recording "the standard against which any future performances of these dances will be measured."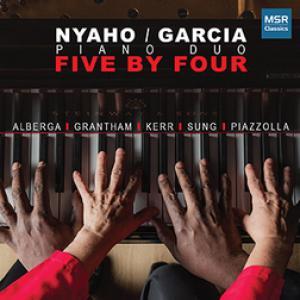 The Duo's newest release Five by Four (2022) on MSR Classics (2022) includes contemporary music for piano duo including four world premiere recordings.
She is the co-developer of eNovativePiano: Multimedia Resources for Developing Musicianship Skills, a sequenced multimedia curriculum for piano instruction that includes instructional videos, video animations, original compositions, and pedagogical editions of standard piano works. In 2021, eNovativePiano was awarded the MTNA-Frances Clark Award for Keyboard Pedagogy.
An active clinician and scholar, she has presented workshops, papers and master classes for International Society for Music Education, College Music Society, Music Teachers National Association, National Association for Humanities Education, National Group Piano/Piano Pedagogy Forum, Online Learning Consortium, Frances Clark Center for Keyboard Pedagogy, Louisiana Music Teachers Association, and many state and local piano teaching organizations. Her research has appeared in such publications as 19th Century Music, Interdisciplinary Humanities, Piano Pedagogy Forum, Philosophy of Music Education Review, and American Music Teacher.
Dr. Garcia has served in leadership roles for Music Teachers National Association (MTNA), National Group Piano/Piano Pedagogy Forum (GP3), Louisiana Music Teachers Association (LMTA), and the Lafayette Area Music Teachers Association (LAMTA). Currently she serves as co-chair of the MTNA's Diversity, Equity, and Inclusion (DEI) conference track for their national conferences in 2022 and 2033.
She has been the recipient of many honors including the University of Louisiana Distinguished Professor Award (2001), Music Teachers National Association Foundation Fellow (2012), Louisiana Music Teachers Association Outstanding Teacher (2013), and the University of Louisiana College of the Arts "Research Excellence Award" (2015).
Garcia received her undergraduate education at Texas A&M at Corpus Christi (formerly Corpus Christi State University). She completed both the Master of Music and The Doctor of Musical Arts degrees at the University of Texas at Austin where she had the privilege of studying pedagogy with Verna Harder, Amanda Vick Lethco, and Martha Hilley. Her piano teachers have included Imelda Delgado, Meryl Ettelson, Gregory Allen, and Danielle Martin.