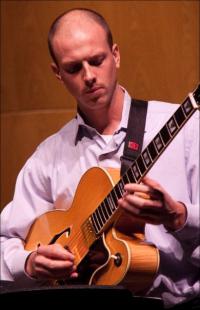 The guitar program is one of the largest in the School of Music and the enrollment of the department has drawn from individuals across the United States. Several of our students have earned national attention through their participation in competitions and music festivals. The School of Music offers both bachelors and masters degrees in guitar performance with a choice between a classical or jazz focus.
There are several ensemble situations available and many opportunities for regular solo and chamber performance as well as a jazz guitar combo, three mixed jazz combos and a big band. Each semester the department brings in guest artists to give concerts and offer master classes. Recent guest artists have included Roland Dyens, David Tanenbaum and Adam Holzman. Our guest jazz guitarists include Steve Masakowski, Rick Stone and Fred Hamilton. Also, each spring semester the School of Music performance competition series features the popular Friends of Music classical guitar competition. There are scholarship opportunities possible for incoming freshmen from both the school of music and the junior division of the university. Potential students are encouraged to investigate these options prior to your application and audition.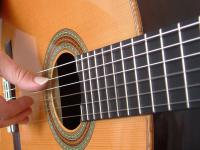 Bachelor of Music in Guitar Performance
The BM program for guitar at UL Lafayette is designed for the student who intends to make a professional career in music as a concert artist, private teacher, or classroom teacher. Students accepted in this program are characteristically strong performers and commonly pursue graduate work beyond the bachelors degree. Regardless of whether a student is studying classical or jazz guitar, the program focuses on development of both traditional and contemporary guitar repertoire and techniques. Performance requirements in the BM guitar program include chamber ensembles, guitar ensemble, history and literature course, pedagogy course, and two solo recitals in the junior and senior years.