(Dr. Huang-Davie is on leave for the 2015–2016 academic year)
Coordinator of Collaborative Piano 
Music Coach of UL-Lafayette Opera Theater
A native of Xian, China, Yuling Huang-Davie studied at the Beijing Central Conservatory under Professor Li Qi-Fang, one of China's internationally renowned professors of piano. After arriving in the United States in 1991, Huang-Davie received her Master's degree in piano performance from Shenandoah Conservatory (Winchester, Virginia), where she studied with Elizabeth Temple. In 1998, she earned her Doctor of Music degree from Florida State University School of Music studying under nationally renowned pianist, the late Dr. Carolyn Bridger. Dr. Huang-Davie has collaborated with leading conductors, such as Michael Singher, Mark Gibson, Steven Mosteller, and Douglas Fisher.
Dr. Huang-Davie has performed extensively as a recitalist. Her concert performances and master class engagements have brought her before the Arts Club of Washington D.C., and taken her to university campuses nationwide including West Virginia, Tulane University, the University of Memphis, James Madison University, the University of Wisconsin at Whitewater, Tulane University, Louisiana State University, among others.
Dr. Huang-Davie's performances have aired on National Public Radio stations in Florida and Louisiana. In 2004, Centaur Records released "Apparitions and Whimsies," a CD featuring a variety of contemporary selections written for flute and piano with Dr. Huang-Davie on piano and Dr. Andrea Kapell Loewy on flute.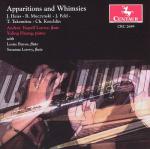 In 2015, Dr. Huang-Davie and Dr. Loewy completed their third concert tour to China and were appointed visiting professors at Liu Pan Shui Normal University for Summer 2016. In their previous tours, the duo performed and presented masterclasses at Beijing Central Conservatory of Music, Tianjin Conservatory of Music, Xian Conservatory of Music, and the School of Music at China Southern Technology University.
Dr. Huang-Davie has won a number of important awards for her musical achievements. She is the recipient of the Distinguished Alumni Award for Outstanding Professional Achievement from Shenandoah Conservatory of Shenandoah University. She was twice named recipient of both the Marion Park Lewis Foundation for the Arts Award and the Tallahassee Music Guild Scholarship Award. In addition, she earned a scholarship to serve as an assistant music coach for the acclaimed Florida State Opera Company.
Email: yuling@louisiana.edu
---