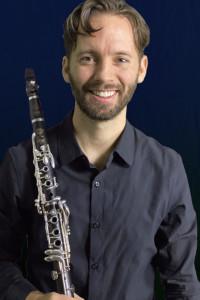 David Ashton—multi-woodwind performer, improviser, composer, and educator—is at home in many musical styles from baroque to contemporary jazz. David performs in a range of musical situations from concert halls and orchestra pits to jazz clubs and rock venues on a variety of woodwind instruments including flutes, oboe, English horn, clarinets, saxophones, and the bassoon. David performs in his own jazz quartet, big band, and is the founder of the woodwind quintet "Sonos Venti". He also has performed regularly in Broadway pit orchestras for The Music Man, Parade, Beetlejuice, Frozen, Aladdin, Spongebob the Musical, as well as in the Radio City Orchestra. David has performed at Carnegie Hall, Alice Tully Hall, Radio City Music Hall, Symphony Space, Merkin Hall, Birdland Jazz Club, Dizzy's Club Coca-Cola, The Shrine, The Cell, Somethin' Jazz Club, the Actor's Temple, as well as internationally at the Copenhagen, Edinburgh, Kongsberg, and Villard-de-Lans jazz festivals.
David was recently appointed Assistant Professor of Woodwinds at the University of Louisiana at Lafayette. Previously he taught at Marywood University, Rutgers University, for the Music Advancement Program at the Juilliard School, and for the Distance Learning program at Manhattan School of Music.
David received his Doctor of Musical Arts degree in classical clarinet performance while studying with Jessica Phillips and Maureen Hurd at Rutgers University. David is also a graduate of the Manhattan School of Music where he earned his Master of Music degree in jazz saxophone performance while studying with many jazz greats including Donny McCaslin, Rich Perry, Steve Wilson, Dave Liebman, Jim McNeely, Phil Markowitz, Garry Dial, John Riley, and Peter Eldrige. David received his Bachelor of Music degree in music education from Brigham Young University where he studied clarinet and saxophone with Ray Smith, Daron Bradford, and Jaren Hinckley.