Traditional Music Studies
UL Lafayette is one of only two dozen universities in North America offering hands-on musical instruction in oral traditions, and the only one to feature Cajun and Creole French music of Louisiana. Courses offered include group instruction (for beginners) and one-on-one instruction (for more advanced students) in Cajun fiddle, accordion, and French vocals; songwriting; and small ensembles for credit (Cajun, zydeco, bluegrass, string band, and blues). We also offer music history and appreciation classes that focus on these styles of music.
The BA in Music with a Concentration in Traditional Music at UL Lafayette provides hands-on training and an academic foundation for students interested in Louisiana-based styles (Cajun, zydeco, etc.) and other traditions which are, by and large, learned by "ear." Some scholarships are available.
Complementing the traditional music major, the School of Music & Performing Arts offers a BA in Music with a Concentration in Music Business and a Bachelor of Music in Music Media, providing opportunities for recording projects, event production, and promotion. Some students pursue these concentrations while studying traditional music. Students who do not major in music are also welcome to take traditional music classes, minor in music, and audition for our ensembles.
YouTube: Comeaux Chair channel
Facebook: facebook.com/ComeauxTradMusic
Instagram: @ultradmusic
Twitter: @ultradmusic
For more information, see the sections below:
---
Faculty in Traditional Music
The faculty in traditional music are recruited, hired, and led by the holder of the Dr. Tommy Comeaux Endowed Chair in Traditional Music. The inaugural (and current) holder of the chair is Dr. Mark F. DeWitt, who was hired in 2010. In addition to those listed below, other affiliated faculty in the School of Music and Performing Arts also participate in the education of students in traditional music, including Dr. Jeffrey George, Professor of Guitar Studies; Mr. Troy Breaux, Master Instructor and Director of Percussion Studies; and Dr. Robert Nash, Instructor of Bass.
Current Adjunct Instructors
Gordon Bradberry
Songwriting

Gordon Bradberry grew up on Grand Isle, Louisiana's only inhabited barrier island. After studying music at Nicholls State, he proceeded straight to Nashville and continued his education as a songwriter in the music industry there. His songs have been recorded by country greats such as Conway Twitty, Willie Nelson, George Strait, Billy Ray Cyrus, and Sammy Kershaw, as well as prominent Louisiana-based musicians Wayne Toups, Waylon Thibodeaux, and Anders Osborne.

Megan Constantin (T'Monde)
Cajun & Creole French vocals

Megan Constantin, originally from Tepetate, LA, grew up to the sound of Cajun music at her grandparent's Cajun restaurant. Singing all her life, Megan took to Cajun music and with it the French language at the age of 18. Joining first with her accordionist brother, Briggs Brown, Megan then went on to play with many different groups. She graduated from UL Lafayette in 2011 with a degree in Francophone Studies, was the Cajun French Music Association's 2013 female vocalist of the year, and now performs and records with the Cajun/Country band T'Monde and Congolese Rhumba band Boma Bongo. She is Director of Marketing and produces the radio program "Encore" for KRVS-88.7 FM.
 

Danny Devillier (Bonsoir Catin)
Music history, percussion

Danny Devillier is a drummer, composer, arranger, and educator with more than twenty years of experience. He has performed with many of Louisiana's well-known artists, and holds down the drums for Bonsoir Catin, a Grammy-nominated Cajun band.

Gina Forsyth (Bruce Daigrepont Band, The Malvinas)
Cajun Fiddle

Gina Forsyth is a violinist, guitarist, and singer/songwriter based in south Louisiana, with over 30 years experience performing, teaching, and recording as a solo artist and with countless bands, most notably Bruce Daigrepont, the Malvinas, the Mid City Aces, and Mamou.

Chad Huval (Beausoleil avec Michael Doucet, Huval Family Band)
Cajun accordion, Freshman seminar

Dr. Chad Huval is the accordionist for Beausoleil avec Michael Doucet and plays a variety of instruments with a variety of other bands. He also teaches accordion at the Brazos Huval School of Music, is sought out to lead musical jams, and has apprenticed with Larry G. Miller in accordion-making.

Chas Justus (Revelers, Chas Justus and the Jury)
String band ensemble

Chas Justus currently contributes his considerable guitar skills and musical knowledge to the Revelers. He has toured nationally and internationally with that Grammy-nominated band and its predecessor, the Red Stick Ramblers. He also has extensive teaching experience in nationally-known summer camps for adults centered around traditional music—Ashokan, Augusta, the Port Townsend Festival of American Fiddle Tunes, Louisiana's own Balfa Camp—and started one himself, Blackpot Camp, in coordination with the annual Blackpot Festival in Lafayette.

Eric McGoffin
Music history

As a Lafayette teen, Eric McGoffin studied piano with local luminary David Egan. He went on to earn music degrees at Tulane University and UL Lafayette. He now teaches music in Lafayette and performs with The Bucks and others.

Blake Miller (Revelers, Old Fashioned Aces)
Cajun ensemble, fiddle, vocals

Blake Miller has distinguished himself in the field of Cajun music on both fiddle and accordion, and he has played in a succession of the genre's top bands, including the Pine Leaf Boys, Cedric Watson and Bijoux Creole, the Red Stick Ramblers, the Revelers, and now fronts his own group, the Old-Fashioned Aces. Along the way, he graduated from UL Lafayette as a French major.

Lee Allen Zeno (Buckwheat Zydeco, Blue Monday All-Stars)
R&B ensemble

Lee Allen Zeno's career as the bass player for Buckwheat Zydeco took him around the world, onto the big screen, and on stage at the closing ceremonies of the 1996 Summer Olympics in Atlanta. He has also recorded with such luminaries as Charlie Rich, Carol Fran, Phillip Walker, Marcia Ball, and Irma Thomas. A few years ago, he came together with the late Lil' Buck Sinegal and several other great local veteran players to form the nucleus of the Blue Monday All-Stars, a house band for fundraising concerts to provide life care services for aging, retired and elder musicians and artists in our community.
Past Instructors
| | |
| --- | --- |
| Dr. Barry Jean Ancelet | Cajun and zydeco history |
| Al Berard (1960-2014) | Fiddle |
| Dr. Marie-Laure Boudreau | World music appreciation |
| Sam Broussard | Songwriting, Guitar |
| Marty Christian | Blues ensemble |
| Johanna Divine | Songwriting |
| Dr. Jessamyn Doan | World music appreciation |
| Ethan Hughes | Mandolin |
| David Greely | Fiddle, Cajun vocals |
| Kristi Guillory | Cajun music and zydeco appreciation, Accordion, Cajun ensemble |
| Kelli Jones | Songwriting |
| Brazos Huval | Fiddle |
| Yvette Landry | Songwriting |
| Corey Ledet | Accordion, Blues ensemble |
| Mitch Reed | Cajun ensemble |
| Benjamin Richey | Bluegrass Ensemble |
| Guillermo Rojas Ahumada | World music appreciation, Latin ensemble |
| Roddie Romero | Cajun ensemble |
| Wilson Savoy | Cajun ensemble, accordion |
| Kristin Scott Benson | Bluegrass banjo |
| Chris Segura | Cajun ensemble |
| Drew Simon | Accordion |
| Dr. Len Springer | Bluegrass ensemble |
| Nathan Williams, Jr. | Zydeco ensemble |
| Kevin Wimmer | Fiddle |
Video: UL Lafayette traditional music instructors play the Cajun standard "J'ai été aul bal" at the Blue Moon Saloon, 2 December 2014 (with no rehearsal): Kristi Guillory, accordion; David Greely, fiddle and vocals; Brazos Huval, fiddle; Wilson Savoy, piano; Mitch Reed, bass, Nathan Williams Jr, drums.
---
Curriculum in Traditional Music
The curriculum in traditional music at UL Lafayette offers a mixture of academic courses, applied instruction on select instruments as well as Cajun and Creole French vocals, and ensembles. These courses are integrated into the curriculum for all university students through the UNIV 100 first-year seminar, the Fine Arts requirement in the general education curriculum, and some undergraduate minors (Music, Cajun and Creole Studies). Courses in traditional music also contribute to various requirements for music majors of several kinds, including (but not limited to) the Bachelor of Arts in Music with a Concentration in Traditional Music.
The music major curriculum at UL Lafayette offers a variety of concentrations (e.g., performance, theory/composition, music education, music business, traditional music) and a fairly comprehensive range of studio instruction (private lessons) in classical music and jazz, along with a more selective menu of studio options in traditional music. There is some flexibility in matching the type of studio instruction (which requires an entrance audition, as a rule) with the concentration. While the Bachelor of Music (BM) and Master of Music (MM) programs require a higher degree of proficiency in music literacy and theory than is typically relevant for oral traditions, we have occasionally had students who completed BM (concentration in Music Media) and MM (concentration in performance) degrees while studying traditional music with their studio teachers (Cajun and blues fiddle, blues guitar, bluegrass banjo) and playing their instruments in trad music ensembles. The Bachelor of Arts (BA) concentrations in Music Business and Traditional Music contribute the most to student enrollment in the academic and ensemble courses in traditional music.
Below is a more detailed description of our offerings in traditional music by course type (academic, ensemble, applied instruction, capstone) at the undergraduate and graduate levels. Each section provides a table of the courses we offer and the requirements they satisfy.
Academic Courses
Courses related to music history and ethnomusicology (MUS 360, 364, 450) count toward music history requirements for music majors and satisfy some requirements for non-majors. We offer one songwriting class that may be repeated once for credit, which is required for Traditional Music majors and serves as a music elective for Music Business and BM students. The music theory class (MUS 110) is restricted to traditional music majors only; it focuses mainly on ear training and aural analysis. MUS 450 is offered once every two years and also counts as a graduate course for our master's students.
| | | | | | | | | |
| --- | --- | --- | --- | --- | --- | --- | --- | --- |
| CourseNum | Course Title | ARTS General Education | Cajun & Creole Studies Minor | Music Minor | Bachelor of Music (BM) | BA Music – Music Business | BA Music – Trad Music | Master of Music (MM) |
| MUS 110 | Music Theory for Oral Traditions |   |   |   |   |   | ♦ |   |
| MUS 319 | Songwriting |   |   | ♦ | ♦ | ♦ | ♦ |   |
| MUS 360 | Cajun & Zydeco Music | ♦ | ♦ |   | ♦ | ♦ | ♦ |   |
| MUS 364 | Music Apprec: Musics of the World | ♦ |   |   | ♦ | ♦ | ♦ |   |
| MUS 450 (G) | Traditional Musics of North America |   |   | ♦ | ♦ | ♦ | ♦ | ♦ |
Ensembles
Ensembles are central to the curriculum in traditional music. "Traditional Music Ensemble" is ultimately a flexible concept with the potential to take many forms, depending on student interest, initiative, and instructor availability. Common to all of these ensembles is an emphasis on learning by ear and on traditional repertoire; occasionally we also have students who write new music in traditional styles. We started a Cajun music ensemble in 2011, now known as the Angelle Aces. We later added bluegrass (Vermilion Express), zydeco (Ragin' Steppers), rhythm and blues (Ragin' & Blues Band), and most recently a string band ensemble (Saint Street Songsters) with diverse influences from Texas swing, "hot jazz," and black string bands from the 1920s-30s. In the past, we have offered at various times an acoustic blues ensemble and a Latin ensemble. For more information about and videos of our current ensembles, visit our Traditional Music Ensembles page.
Our traditional music ensembles are all different sections of one course number—AMUS 160 (for freshman and sophomores) or AMUS 360 (for juniors and seniors). For Bachelor of Music students, the number of semesters that AMUS 160 can count for their ensemble requirement varies by instrument and by concentration; for details view each concentration on the School's curriculum pages. However, students often overcome this limitation by taking multiple ensembles in a semester.
Another related ensemble is AMUS 117/317 Percussion Ensemble, which often selects from its collection of instruments from around the world to focus on one traditional repertoire for a semester, such as Javanese gamelan, Trinidadian steel pan, or Brazilian samba.
| | | | | | | | |
| --- | --- | --- | --- | --- | --- | --- | --- |
| CourseNum | Course Title | ARTS General Education | Cajun & Creole Studies Minor | Music Minor | Bachelor of Music (BM) | BA Music – Music Business | BA Music – Trad Music |
| AMUS 160 | Traditional Music Ensemble |   | ♦ |   | ♦ | ♦ | ♦ |
| AMUS 360 | Traditional Music Ensemble |   | ♦ |   | ♦ | ♦ | ♦ |
Applied Music Instruction
Applied music instruction (how to play an instrument or sing) in various styles of traditional music is available to music majors and non-majors alike. Group instruction taught by ear is offered in Cajun and Creole music on fiddle, single-row button accordion (elsewhere known as a melodeon), and vocals; the School also offers a class guitar sequence (MUS 325-326-346-347) not specific to traditional music that provides applicable skills. UNIV 100 Cajun and Creole Jam provides a gateway to these classes for first-year students by providing introductory hands-on instruction in Cajun and Creole accordion, fiddle, guitar, and vocals for each student.
Individual lessons are generally reserved for students who pass an audition, whether or not they have first taken one of the group classes. Private studio instruction is available in a wider variety of instruments and styles than the group classes, depending on student demand and teacher availability. Private lessons are currently available on triple-row and piano accordion in addition to single-row accordion; multiple styles of playing for fiddle, guitar, bass, and drums; and bluegrass banjo and mandolin.
| | | | | | | | |
| --- | --- | --- | --- | --- | --- | --- | --- |
| CourseNum | Course Title | ARTS General Education | Cajun & Creole Studies Minor | Music Minor | Bachelor of Music (BM) | BA Music – Music Business | BA Music – Trad Music |
| AMUS 115 | Individual Lessons |   |   | ♦ | ♦ | ♦ | ♦ |
| AMUS 315 | Individual Lessons |   |   | ♦ | ♦ |   |   |
| MUS 327 | Class Fiddle I | ♦ | ♦ | ♦ |   | ♦ | ♦ |
| MUS 328 | Class Fiddle II | ♦ | ♦ | ♦ |   | ♦ | ♦ |
| MUS 329 | Class Button Accordion | ♦ | ♦ | ♦ |   | ♦ | ♦ |
| MUS 331 | Cajun and Creole French Vocals | ♦ | ♦ |   |   | ♦ | ♦ |
Capstone Courses
The nature of capstone courses varies by major concentration. The senior recital is supervised by the studio teacher of a BM student; this usually involves traditional music only for those students who auditioned to study traditional music when they entered.
Music Business students work as interns during their final year of study. Internships are often split between two different organizations, which sometimes include non-profit entities and recording studios that program or produce traditional music and adjacent styles, such as Festival International de Louisiane and Dockside Studios. Some of our traditional music ensemble students who were music business majors finished their studies with internships in Nashville.
The senior project for the traditional music major can be of an applied sort (like a senior recital), an academic project like a bachelor's thesis, an internship, or some other type of project in consultation with the advisor. For her senior project our first graduate in traditional music, Ailee Pardi, wrote a term paper and gave a lecture-recital on Cajun and Creole fiddle tunes--those that accordions usually don't join on.
| | | | | | | | |
| --- | --- | --- | --- | --- | --- | --- | --- |
| CourseNum | Course Title | ARTS General Education | Cajun & Creole Studies Minor | Music Minor | Bachelor of Music (BM) | BA Music – Music Business | BA Music – Trad Music |
| AMUS 490 | Senior Recital |   |   |   | ♦ |   |   |
| MUS 458 | Music Business Internship |   |   |   |   | ♦ |   |
| MUS 459 | Traditional Music Senior Project |   |   |   |   |   | ♦ |
Graduate Courses
The curriculum in traditional music is primarily aimed at undergraduates. The Master of Music (MM) curriculum has entrance requirements that include music literacy and theory skills that most traditional musicians never acquire, but occasionally students who have acquired these skills are also interested in traditional music. For that reason, we have added graduate course numbers for studio instruction in accordion and banjo, and we have the ability to add sections to existing courses such as guitar, voice, and violin as needed. Likewise we are able to offer graduate credit for traditional music ensembles by adding sections to MUS 544.
There is no MM concentration in musicology or ethnomusicology due to a shortage of faculty, but we do offer one course in ethnomusicology every other year, special projects (independent studies) on demand, and occasionally a music theory student taking the thesis option or music education student will write on a topic related to traditional music. Past master's capstone projects are listed below.
| | | |
| --- | --- | --- |
| CourseNum | Course Title | Course Type |
| MUS 544 | Graduate Ensemble | Ensemble |
| MUS 543 | Accordion | Applied |
| MUS 545 | Banjo | Applied |
| MUS 565 | Topics in Ethnomusicology | Academic |
| MUS 597 | Special Projects in Music Research | Academic |
| MUS 550 | Recital | Capstone |
| MUS 599 | Thesis | Capstone |
DelGizzi, Jesse D. 2018. "Zydeco Aesthetics: Instrumentation, Performance Practice, and Sound Engineering." M.M. thesis, School of Music and Performing Arts, University of Louisiana at Lafayette (ProQuest 10816360).
Keith, Shannon D. 2013. "The Perceived Role of Music in the Pentecostal and Charismatic Worship Experience." M.M. thesis, School of Music and Performing Arts, University of Louisiana at Lafayette (ProQuest 1553877).
McGoffin, Eric C. 2016. "Ghost Songs: The Effects Of An Urban Natural Disaster On National Identity In Nicaragua." M.M. thesis, School of Music and Performing Arts, University of Louisiana at Lafayette (ProQuest 10163341).
Veazey, Kylie. 2018. "Accordion Method: Bringing the Accordion into the Elementary Music Classroom." Student and Teacher Editions. M.M. Music Education Final Project, School of Music and Performing Arts, University of Louisiana at Lafayette.
---
Guest Artists and Special Projects
Involving both local and traveling artists in the traditional music program at UL Lafayette is integral to the mission of the Dr. Tommy Comeaux Chair in Traditional Music. Collaborations with other organizations both on and off campus are also essential to maintaining the program's community ties and its profile. The fruits of some of these collaborations are described below, and a more thorough listing of guest artists appears at the end of this section.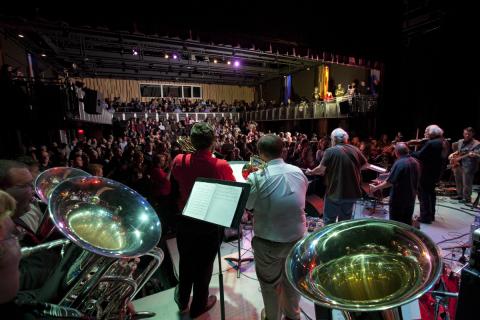 The decidedly non-traditional combination of Cajun or zydeco dance music with the School of Music's large ensembles (band and orchestra) has produced surprisingly positive results over the years, serving to put our students and their music in front of larger audiences than would attend an event featuring just our ensembles. In some cases (BeauSoleil avec Michael Doucet with our wind ensemble and symphony orchestra; Wayne Toups and Nathan Williams Jr with the marching band at football games), the university commissioned new arrangements of the artists' music to perform with our major ensembles. In others (Steve Riley and the Mamou Playboys, Lost Bayou Ramblers), the artists had previously performed with other orchestras and arrangements were already available.
[Photo: BeauSoleil avec Michael Doucet performing with the UL Lafayette Wind Ensemble at Medicine Show 14, December 2010, Acadiana Center for the Arts. Photo by Philip Gould.]
Local non-profit Louisiana Folk Roots has had a close relationship with our traditional music program due to our closely overlapping missions related to teaching traditional music. Our ensembles have performed at Folk Roots's Balfa Week for adult learners, our adjunct instructors have taught at the organization's Kids Camp (ages 8-14), and in July 2016 we succeeded in collaborating on a Teen Camp (ages 14-18). More recently, Folk Roots was given a stage to curate at Festival International and invited our ensembles to perform (see timeline below).
Festivals Acadiens et Créoles is another local organization whose mission is closely aligned with our own. We partnered in obtaining a grant from the National Endowment for the Arts to help fund several special events for the festival's 40th anniversary celebration in 2014, including pre-festival events (symposium and concert) on campus, a special exhibit of photography and artifacts at the university art museum, and an additional Anniversary Stage on the museum's lawn. In 2015, the university's traditional music program started hosting the festival's jam tent, which involves selecting the jam leaders and staffing an instrument check service for the musicians who come to jam. Student volunteers from the MUS 360 Cajun and Zydeco history class receive service learning credit for working at the jam tent or elsewhere at the festival.
The timeline below gives some highlights of special events and further collaborations—with the Ernest J. Gaines Center, with Love of People, with KRVS-88.7 FM.
2010-11

BeauSoleil avec Michael Doucet were artists in residence, and they were presented with the SPARK Lifetime Achievement Award in the Arts from the College of the Arts. The group performed with the Wind Ensemble at UL Lafayette's Homecoming Concert in October and also at the Comeaux Chair's December fundraising event, Medicine Show 14. Michael Doucet was in residence in February 2011 and in March the entire band returned for a week in residence, visiting classes, coaching ensembles, and playing its own concert at Angelle Hall with an assist from the UL Lafayette Symphony Orchestra.

2011-12

Dr. Mark DeWitt invited four Lafayette-based songwriters to serve as guest teachers for UL Lafayette's first-ever songwriting class, culminating in a semester-ending songwriter showcase in Burke-Hawthorne Hall featuring each student in the class alongside Yvette Landry, Sam Broussard, Nathan Williams Sr, and the late David Egan.

2012-13

Spring 2013 brought a group of music students and faculty from Université Rennes 2 in Brittany, France who study and teach at le Centre de Formation des Musiciens Intervants à l'école , or Center for Training Musician-Artists in Schools. These advanced diploma students learned Cajun and Creole music at the university, shared their Breton and French traditional music with us, and worked with youth enrolled in French immersion in the Lafayette Parish School System.

2013-14

Steve Riley and the Mamou Playboys visited our campus as artists in residence, celebrating their twenty-fifth year as a band. They visited several music classes, gave rhythm section and fiddle clinics, and gave a Friday night concert in Angelle Hall. The UL Lafayette Symphony accompanied them on four songs, and the Cajun Music Ensemble led by Mitch Reed also joined the program.

2014-15

In a collaboration with UL Lafayette's Ernest Gaines Center, New Orleans jazz trumpeter and composer Irvin Mayfield brought his quintet to UL Lafayette in Spring 2015 to perform selections from a larger work, Dirt, Dust and Trees, inspired by the novels of Ernest Gaines. Mr. and Mrs. Gaines attended the performance, and UL Lafayette's Jazz Combo I opened the show with Mr. Mayfield on trumpet. Photo credit: Philip Gould for UL Lafayette.

2015-16

The College of the Arts celebrated folklorist Nick Spitzer's career and recognized him with its SPARK Lifetime Achievement in the Arts. Spitzer, host of public radio's American Routes program and professor of anthropology at Tulane University, was the founding director of the Louisiana Folklife Program and a researcher specializing in Creole music and culture. During the year he visited several classes, met with music business majors, and emceed a zydeco show featuring Lawrence Ardoin and Geno Delafose. Spitzer later released live recordings from this show on American Routes, broadcast to over 300 radio stations nationwide.

2016-17

Zydeco ensemble the Ragin' Steppers played at the 2017 Festival International de Louisiane on the Louisiana Folk Roots stage, a new platform to give voice to local culture and talent at the region's most high-profile festival. Our Cajun, zydeco, bluegrass, blues, and R&B ensembles also appeared on this stage over the following two years. Photo credit: Doug Dugas / University of Louisiana at Lafayette.

2017-18

UL Lafayette students performed at Blue Monday fundraisers in Lafayette, marking the beginning of a collaboration with Love of People, a non-profit with the mission of providing life care services for aging, retired and elder musicians and artists in our community.

2018-19

Vermilion Express (our bluegrass ensemble) traveled to perform at the International Bluegrass Music Association's Higher Education Showcase and World of Bluegrass festival in Raleigh, North Carolina, September 2018.

Fiddler Ailee Pardi became the first graduate with a BA in Music with a Concentration in Traditional Music at UL Lafayette.

2019-20

Having just graduated with his MM in percussion performance from UL Lafayette and appeared at Festival International with his band Latino Pulse, Bogota, Colombia-based Guillermo Rojas obtained a visa to stay another year to teach our world music class and a Latin ensemble, which had two public performances before classes went remote in March due to COVID-19.

A zydeco band of faculty and students, led by Nathan Williams Jr, performed with the Pride of Acadiana marching band before a halftime crowd of 19,756 at an October 2019 home game for the UL Lafayette Ragin' Cajuns football team, in honor of the upcoming Festivals Acadiens et Creoles.

2020-21

In the wake of COVID-related cancellations of live music events, the Comeaux Chair and KRVS-88.7 FM co-produced two series of performances videorecorded in the radio station's studio. The first was by student ensembles in traditional music. The second—named Cypress Lake Studios Live!—hired local musicians from the community.
Following is a fuller (yet not complete) list of guests who have visited academic classes, given clinics to students or the public, and/or given concerts on campus, all sponsored by the Dr. Tommy Comeaux Endowed Chair in Traditional Music since 2010.
| | |
| --- | --- |
| Genre | Artist |
| Bluegrass | Dan Boner; Michael and Jennifer McClain; Alan Munde; Alecia Nugent; Dennis Stewart and Jamey Alwell; Sharon Leahy and Rick Good (old-time Appalachian music and dance); Alice Lloyd College Voices of Appalachia |
| Blues | Grant Dermody; Sonny Landreth; Michael-Juan Nuñez, Grayhawk Perkins |
| Cajun, Creole, and zydeco | Lawrence Ardoin; BeauSoleil avec Michael Doucet; Jeffery Broussard; Megan Brown; Chubby Carrier; Sheryl Cormier; Geno Delafose; D'Jalma Garnier; Corey Ledet; Walter Mouton; Corey Porche; Zachary Richard; Steve Riley and the Mamou Playboys; Ann Savoy; Chris Segura; Chris Stafford; Andre Thierry; Wayne Toups; Cedric Watson; Nathan Williams, Sr. |
| Instrument makers | Anya Burgess (luthier); Andre Michot (accordion maker); Larry Miller (accordion maker) |
| Irish music | Brock McGuire Band; Sheila Davoren (Irish dance); Tony Davoren; Finn Magill & Alan Murray |
| Jazz | Laurie Antonioli; Irvin Mayfield |
| Scholars and writers | Barry Jean Ancelet, folklorist; Michael Bakan, ethnomusicologist ; Wade Falcon, community historian; Herman Fuselier, DJ and journalist; David Hebert, music education; Emmanuel Parent, musicologist; Nick Spitzer, folklorist; Elijah Wald, music writer |
| Singer-songwriters | Sam Broussard; Daniel Coolik; Mike Dean; Sara Douga; David Egan; Yvette Landry |
| World music | Bela Fleck, Edgar Meyer, and Zakir Hussain; Gao Hong (Chinese pipa); Kálmán Balogh Gypsy Cimbalom Trio; Magos Hungarian Folk Band; Dédé St. Prix (percussion, Martinique); Midiyanto (Javanese gamelan) |
---
History of the Dr. Tommy Comeaux Endowed Chair in Traditional Music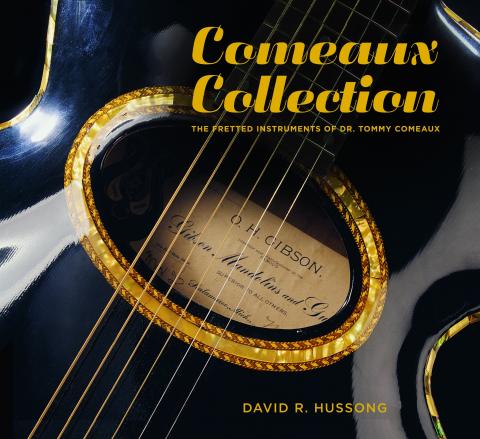 Below is some background on the endowment that makes the program in traditional music at UL Lafayette possible. In brief, the initial one-million-dollar endowment was comprised of 60% private donations from individuals and corporations (accumulated from 1997 to 2008) and 40% of matching funds from the Louisiana Board of Regents Support Fund's Endowed Chairs for Eminent Scholars Program . The program's budget derives from interest earned on the endowment principal.
The following was written by the friends of Tommy Comeaux who spearheaded the fundraising effort. This text was taken from a 2010-vintage version of a website that no longer exists (tommycomeaux.com), courtesy of the Wayback Machine at the Internet Archive, and has been edited for length and relevance to the present purpose.
For additional stories about the creation of the endowment and the first years of the program's existence, see the Fall 2017 issue of La Louisiane , the university's alumni magazine, and a photography book from UL Lafayette Press, Comeaux Collection: The Fretted Instruments of Dr. Tommy Comeaux.
Tommy Comeaux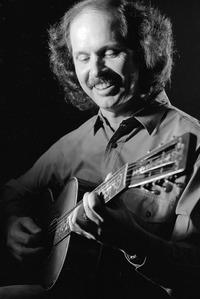 Dr. Tommy Comeaux (1952-1997) was the kind of person who made the community he lived in more than just a collection of individuals. Whether lending his medical expertise or musical support, the pathologist and multi-instrumentalist was known for his wide-ranging talents and his heartfelt generosity.
Tommy was accomplished on guitar, dobro, mandolin and bass, and he was a member of BeauSoleil, The Basin Brothers, The Clickin' Chickens, Coteau and several other bands. In music as in medicine, he was known for his warm spirit and his willingness to play supporting roles, often letting others have the spotlight.
He received numerous academic and musical awards and honors during his lifetime. Tommy was not only head of pathology at Our Lady of Lourdes Regional Medical Center, he also received four Grammy nominations while a member of BeauSoleil.
Tommy was killed while bicycling one morning, when an oncoming driver suffered a seizure and crossed the roadway, striking him. His amazing spirit and inspirational legacy live on in the Dr. Tommy Comeaux Memorial Endowed Fund for Traditional Music.
[Photo: Musician and physician Dr. Tommy Comeaux. Photo by Robin May]
The Fund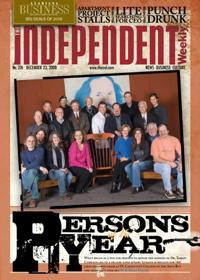 The Dr. Tommy Comeaux Memorial Endowed Fund for Traditional Music completed fundraising necessary to establish a unique million-dollar Eminent Scholar Endowed Chair in Traditional Music at the University of Louisiana at Lafayette. The first chair holder, Mark F. DeWitt, began his work July 2010.
This grass-roots effort has combined countless individual and corporate contributions with concert, special event and auction proceeds as well as commemorative CD, poster and T-shirt sales to push the Comeaux Fund across its initial million-dollar goal line.
The members of the Comeaux Fund Campaign Committee include Steve Abshire, Allen Bacqué, Frank Bacqué, Megan Barra, Don Bertrand, Robbie Bush, Frank Camalo, Bradley Chastant, Mary Chastant, Vicki Chrisman, Michael Doucet, Sharon Arms Doucet, Karl Fontenot, R. Reese Fuller, Shamus Todd Fuller, Susie Garcia, Bruce Gray, Margaret Gray, Gwyn Hutslar, Kent Hutslar, Sonny Landreth, Dickie Landry, Pat Mould, Jen Mouton, Todd Mouton, Gary Newman, Buddy Palmer, Renée Roberts, and Len Springer.
[Photo: In 2008, after reaching our initial million-dollar goal and establishing the Dr. Tommy Comeaux Memorial Eminent Scholar Endowed Chair in Traditional Music, the members of the Comeaux Fund Campaign Committee were honored as Persons of the Year by The Independent Weekly in Lafayette, La. Photo by Robin May]
The Chair
Inspired by the great Cajun musician and craftsman D.L. Menard, we felt it only appropriate that Tommy's chair be rockin'.
Want to see the actual chair? One chair is in the lobby of the School of Music's Angelle Hall.
The mission of the Dr. Tommy Comeaux Endowed Chair in Traditional Music is to stimulate interdisciplinary research on the foundations and diversity of traditional music worldwide and to advance the preservation, instruction, and performance of traditional music with an emphasis on traditions that have developed in Acadiana. New classes and programs continue to be developed with involvement from musicians in the community.
Goals for the Chair and the programs it will sponsor are threefold. The chair will:
1. Foster teaching, learning and creative activities in traditional music.
2. Encourage, develop, engage in, and disseminate cross-disciplinary research on traditional music.
3. Serve the campus, the community and beyond by advocating and promoting scholarly and artistic exchange in traditional music through conferences, performances, workshops, and other means.
[Photo: Comeaux Fund Campaign Committee members Gary Newman and Todd Mouton onstage with the symbolic endowed "rockin' chair" at Medicine Show 12. Photo by Philip Gould]
CDs
Over the years we've recorded and released some amazing music.
"Medicine Show Live, Vol. 1" was recorded at our very first event and features live performances by Sonny Landreth, BeauSoleil, Coteau, Basin Brothers, The Clickin' Chickens and Native Sons.
"Medicine Show Live, Vol. 2" is out of print.
"Medicine Show Live, Vol. 3" features live performances by The Bluerunners, Zachary Richard & Sonny Landreth, Bas Clas, Filé, Sonny Landreth, Dirk Powell, The Hardheads, The Garth Alper Trio, The Traiteurs, Balfa Toujours, Chris LeBlanc Band, Rufus Jagneaux, The Nouveau String Band with Marce Lacouture, and Veillee.
The Traiteurs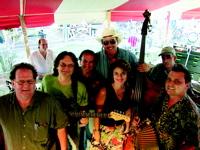 The world's greatest "house band" has contributed an unbelievable amount of support to our efforts.
The Traiteurs' "Good For What Ails You" Tour has taken them to The New Orleans Jazz & Heritage Festival, Festivals Acadiens, Festival International de Louisiane and many a Medicine Show. We would not be where we are today were it not for their boundless generosity.
Merci beaucoup!
[Photo: The world's greatest Cajun jam band (l-r) Pat Mould, Danny Kimball, Sonny Landreth, Al Berard, Gary Newman, Valerie Breazeale, Tony Latiolais and Errol Verret. Logo by Megan Barra. Photo by Kent G. Hutslar]
Sonny's Krewe
Sonny Landreth and his amazing fan club have been major supporters of our efforts.
For more on Sonny's Krewe, and to support their efforts, visit them online – or at a Comeaux Fund event – you never know where they'll pop up next!
[Photo (unavailable): The members of Sonny's Krewe don't just make, model and travel to shows to sell official Sonny Landreth merchandise – they donate the proceeds of their sales to the Comeaux Fund.]