UL Lafayette Bands hosts a number of annual events, which attract thousands of people to campus and Cajun Field. In addition to our annual events, we also have dozens of events every semester from our students, as well as other students in the School of Music and Performing Arts. View all of our upcoming events.
Drums Across Cajun Field
Drums Across Cajun Field, held every year in late July, is part of the Drum Corps International Summer Music Games Tour. The event brings some of the world's most elite marching ensembles to the UL Lafayette campus.
This year's edition will be held Monday, July 23, at Cajun Field.  Tickets can be purchased online through Ticketmaster or in person at the CAJUNDOME box office.   
Group orders (those of more than 20 tickets) can receive a special discounted rate - please download this form and call the CAJUNDOME box office at (337) 265-2208 for more information.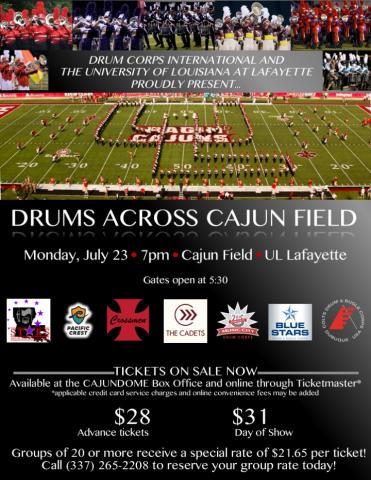 SLDBA District III Marching Assessment - Monday, October 22, 2018
Featuring high school marching bands from Lafayette, Vermilion, and Iberia parishes, as well as an exhibition by the "Pride of Acadiana" Marching Band,  the District III Marching Assessment is held annually at Cajun Field in late October.  This event is sponsored by the Southwest Louisiana Band Directors Association, and admission is $7 (children under 5 admitted free).
Louisiana Showcase of Marching Bands State Championship - Saturday, November 3, 2018
Every year, more than 30 high school bands from across Louisiana come to Cajun Field to compete in the Louisiana Showcase of Marching Bands. Co-sponsored by Lafayette Music and the Pride of Acadiana Marching Band, Showcase provides a great opportunity for bands to perform for large crowds and earn recognition and awards. The Pride of Acadiana is featured in exhibition each year right before the award ceremony.
Showcase is special among marching band contests as there is no entrance fee for the bands. The profits are returned to the participating bands or donated to UL for use in scholarships designated for future band directors.
More information will be available as the event gets closer. For questions or to purchase t-shirts and patches, contact Lafayette Music at 337-984-3700. To order videos, contact Lafayette Music or go to www.mrvideoonline.com.