The UL Lafayette Chorale is the premiere Tenor/Bass choir on the UL Lafayette campus. Anyone can enroll in the ensemble, AMUS 145 / AMUS 345, regardless of their major or music-reading ability.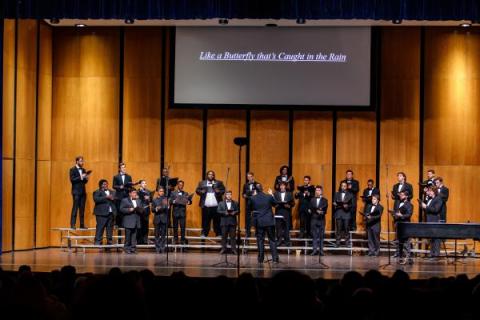 Our musical repertoire consists of a vibrant blend of masterworks of choral literature and music from around the world. The University Chorale often collaborates with instrumental ensembles such as the UL Symphony Orchestra, and the UL Wind Ensemble and presents performance in coordination with the Chamber Singers and Vermilion Voix.
The ensemble rehearses M-W-F 2:30–3:45pm; and presents 3–5 performances per year. Scholarships are available for incoming students with high level of vocal and sight-singing ability. Please contact Dr. William Plummer for more information at choir@louisiana.edu.
---
UL Lafayette Choir Course Numbers
Chorale (AMUS 145 / AMUS 345)
Chamber Singers (AMUS 146 / AMUS 346)
Vermilion Voix (AMUS 144 / AMUS 344)
---