The UL Lafayette Opera Theatre presents an 18th-century opera event!
Wed, 11/10/2021 - 4:32pm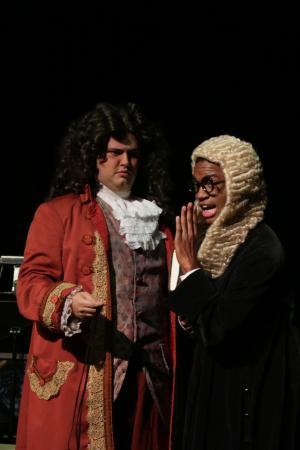 The UL Lafayette Opera Theatre recently produced "Perukes, Panniers and Pasatieri" as its Fall 2021 Mainstage Production, directed by Shawn Roy. Act 1 was a variety of 18th-century opera scenes featuring the works of Mozart, Haydn, Handel, Gluck and Cimarosa.
Act 2 was the presentation of "Signor Deluso" by American composer Thomas Pasatieri (b. 1945). The opera is set in the early 18th century and is a comedy based on a Moliere play about misunderstandings and relationships. The opera was conducted by Dr. William Plummer, director of Choral Activities in the School of Music and accompanied by an 8-piece orchestra.
Both acts were performed by UL Lafayette Voice Majors. The singers were Sopranos Madison Russell and Victoria Thomas, Mezzo-sopranos Natalie Broussard and Maria Cruz, Tenors Peter Adendorff and Anthony Voiers, Baritone Alexander Laiche, and Bass Timothy Sam.
Set and Lighting Design were provided by Marty Aikens and Wig Design by student designer Jax Cornett. Costumes were provided by Costume World Theatrical. Many thanks to Costume shop Manager Samantha Abbott and Wig Faculty advisor Trent Pcenicni for their assistance with the production as well as Michael Hidalgo for his role as Technical Director.
Please join the Opera Theatre in a collaborative venture with the Performing Arts Department next semester for the musical "Urinetown, the Musical" to be performed mid-March in Burke Theatre.