Chamber Singers Premiere Baroque Cantata
Tue, 12/06/2022 - 2:06pm
This spring, the UL Lafayette Chamber Singers gave a modern premiere of the cantata "O Welt sieh hier dein Leben," a Baroque-era choral/orchestral masterwork which had not been performed or heard since the year 1719. Choral students and student soloists recorded the work, resulting in the first ever recording of the piece. Working closely with visiting guest scholar Dr. Mariusz Bahnean (an expert on the music of Christoph Graupner) and Dr. William Plummer (Director of Choral Activities), choral students engaged in co-research, making the guided interpretive and performance practice decisions necessary to record and perform the multi-movement piece.
Click image below to view the performance.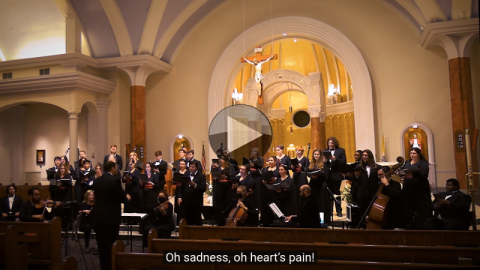 Special thanks to St. Pius X Catholic Church for their generous use of the sanctuary to provide a beautiful and reverent setting for this sacred cantata.