Building a Legacy: The Danielle Wright Memorial Endowed Scholarship in Choir and Voice
Tue, 02/22/2022 - 10:57am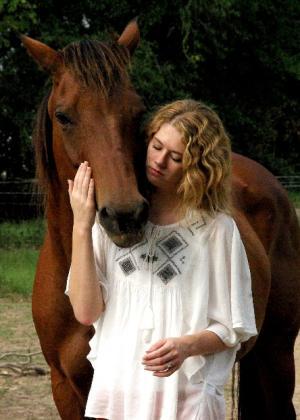 When reflecting on their daughter's life and legacy, Ricky and Robin Wright recall a free spirited, adventurous, kind-hearted individual. Danielle's zest for life was infectious – She brought a particular kind of joy to her friends and family that continues to impact them to this day. The Wrights hope to expand Danielle's legacy through their philanthropic gift to UL Lafayette, with the goal of allowing their daughter's passions to be lived out by other students who share her interests.
Danielle's story is an interesting one, and not typical of today's college student. Then again, Danielle was far from your typical individual. She was raised on an 80-acre farm, rode horses in her free time, grew up with a keyboard in her living room instead of a television, and spent more than a year living on a sailboat with her parents.
Danielle was a highly empathetic, deeply feeling individual with a passion for helping others. She chose to major in Psychology in hopes of someday working in a field where she could do just that. In addition to having a servant's heart, Danielle's mother Robin describes her as an adventurous creative who was just getting started in exploring all of what she was capable of.
Danielle was only in the choir at UL Lafayette for one semester – But in that short time, Danielle found her niche. She made friends and discovered a place where she could exercise her creativity and explore her passion for the arts. Danielle began taking piano lessons at a young age and showed impressive musical promise from the start, but her parents credit the UL choir program with truly igniting their daughter's passion for music. Robin Wright reflects often on Danielle's last semester at UL, when she would return home from choir class with an infectious smile. She would often come home singing the songs her class had been working on, and she made friends who, to this day, still cherish their time with Danielle that semester.
When asked why they chose to establish the Danielle Wright Memorial Endowed Scholarship in Choir & Voice, Danielle's father, Ricky Wright, states that it's really very simple.
"It's lagniappe – It's a way for us to keep her spirit alive. We want to give other students the chance to participate in the choir program and to continue on with their education."
Danielle's mother Robin was a fervent encourager of her daughter's passions, even supporting her exploring Music as a potential major, and continues to be a strong advocate for young people following their dreams.
"I was encouraging her; I told her she could do it. It was amazing as a parent to watch her transform during her time in the choir."
The Wrights still keep in contact with Danielle's music friends from UL, supporting and encouraging them often in pursuing their own dreams. Robin finds joy in knowing that the music program brought such light into her daughter's life, even for just a short time.
"Danielle was so drawn to the happy, friendly, loving students that she was meeting in choir. She was in Psychology because she loved helping people, so I know Danielle would love that we're getting to help other people achieve their goals and dreams."
The choir program was a gift to Danielle's life. Ricky and Robin Wright hope to build a legacy for their daughter that provides that same gift to others.