Horn Studio Participates in the 2022 Southeast Horn Workshop
Thu, 05/05/2022 - 4:16pm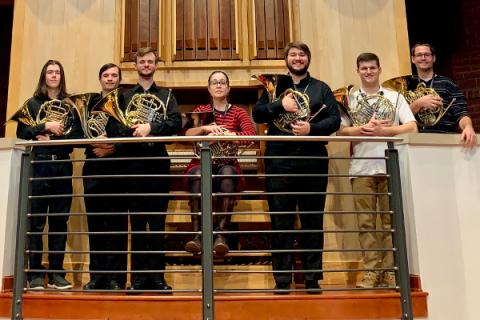 Catherine Roche-Wallace and the UL Lafayette Horn Studio presented and performed at the 2022 Southeast Horn Workshop, a regional workshop of the International Horn Society, March 11–13, at UNCG in Greensboro, NC.
Dr. Roche-Wallace presented her research project on the instruments used at the Paris Conservatory in the late 19th–early 20th century and was able to debut her 1913 Evette & Schaeffer piston horn, recently restored by Houghton Horns of Texas.
The UL Horn Studio presented a program of horn quintets and sextets, and enjoyed masterclasses and performances from hornists representing several US states.
Roche-Wallace performed with 11 other horn professors from across the region in two programs, one with the renowned Hollywood hornist James Decker leading several movie score arrangements.