Master of Music in Performance Pedagogy (MM)
This curriculum focuses on the study of advanced pedagogy techniques, teaching special populations, and the performance practice and pedagogy of advanced literature. Students pursuing this concentration typically are musicians who are primarily interested in teaching, rather than a career as a professional performer. Many of these students continue their studies at the Doctoral level and pursue professional teaching careers in their fields.
Graduate Assistantships are available for qualified students. Graduate Assistant duties typically include teaching opportunities in both group and applied settings at the college level.
Recent Student Projects:
When Your Student Cannot See Movement Activities for the Independent Piano Teacher
Group Lessons for Adult Learners
Improving the Reading Skills of Aural Learners
Alternative Reading Methods.
Teaching Popular Music to High School Students
Performance Pedagogy majors also take classes in Applied Piano, Music Theory, Music History, Keyboard Literature and perform a Graduate Recital.
The Piano Pedagogy Lab Program
The Piano Pedagogy Lab Program is the training lab for students majoring in piano pedagogy. Student teachers are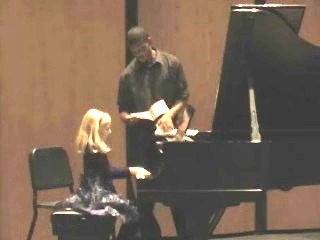 assigned to community students who take lessons in both the group and private lesson setting. At the end of each semester, students perform on the Pedagogy Lab Recital.
At UL- Lafayette, Teachers-in-training have the opportunity to experience the most current materials and equipment available for teaching.
Pedagogy Library: includes all current and many historical piano teaching methods, supplementary repertoire books, sheet music, CD recordings of the standard pedagogical literature and MIDI disks for popular methods.
Pedagogy Lab: This is the teaching facility for private and small group lessons. Equipment includes a Yamaha Disklavier Piano, Clavinova CVP 305, Yamaha Synthesizer, iMAC Computer/software. Collection of rhythm instruments and other pedagogical materials.

Piano Lab 1: A 13-station Clavinova/Computer Lab/Smart Classroom
Piano Lab 2: A 13-station Clavinova CVP 305 Lab
Video Equipment for observation and feedback