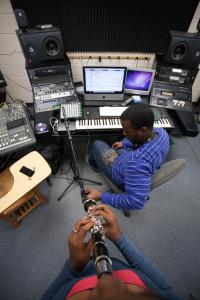 Please note: an audition is required for admission into this concentration. See audition requirements.
The Music Media program is the only one of its kind at a public institution in Louisiana, and offers students high level music technology instruction and production experience within a liberal arts setting.
The Bachelor of Music degree is an intensive course of study, combining a foundation in classical or jazz music with training in music technology, production, and contemporary music. Students taking the Music Media concentration improve their performance abilities, become familiar with music theory and history, and learn to compose and arrange music. Specialized media classes in music technology, synthesis, recording techniques, editing, post production, film scoring, arranging, and music business help students develop the skills they will need to succeed in today's rapidly changing music industry. Students get extensive hands-on experience in the School of Music's well-equipped recording studio, MIDI lab, computer classroom, keyboard laboratory, Angelle Hall Auditorium, and postproduction facility. In addition we enjoy a close relationship with KRVS 88.7 FM, and collaborate on the recording of local events and use their recording facility for special projects.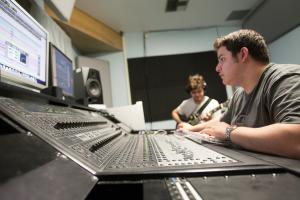 A Music Media degree prepares you to enter the marketplace of the commercial music industry. This concentration is also open to students on any band or orchestral instrument, piano, voice, or guitar. Graduates in this area have been employed at recording studios, in the music licensing industry (BMI), and pursue graduate study.