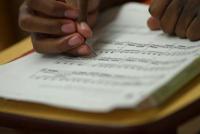 Please note: an audition is required for admission into this concentration. See audition requirements.
The Theory/Composition concentration typically prepares you for a career as a composer, but also for graduate study and an eventual career in academia. This concentration is open to students on any band or orchestral instrument, piano, voice, or guitar. UL graduates in this area typically have compositions published even prior to graduation. Graduates' income may come from contracts with publishing companies as well as commissions.
For more information email the Theory Coordinator Dr. Wesley Bradford at wesley.bradford@louisiana.edu.